User time recording report
To report on the time logged against your project stages by your users, run this report.

Select the date range you want to report on, then click the "Run Report" button.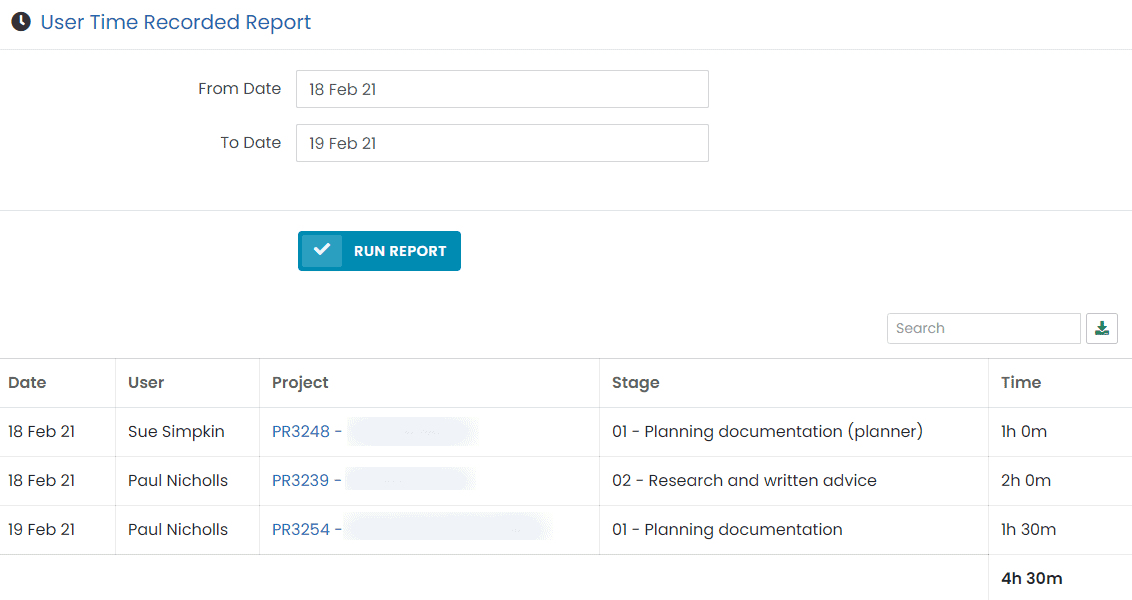 Click the download button at the top right of the table to export the report.


Users must have the "Run Time Recording Reports" permission to be able to run this report.
Related Articles

Time recording report

Use this report to see times recorded against project stages, compared to the quoted hours for those stages. You can choose from the following options: Report Report on time by project stage or total time by project. Project Select a project to only ...

User management

Adding users To add users, go to "Setup > Users" then click on the plus icon at the top right above the table. Permission Groups Permission groups allow you to set which users are able to perform which actions in PlanMan, such as add, edit and delete ...

Time recording

To log time against a project stage, you can do it in two different ways. Method1 Click the stopwatch icon at the top right on any page. Select the project and stage you have been working on and enter how many hours and minutes, then click the "Add ...

Invoices report

When reporting on invoices, you have the following options: From/To date Select dates here to see invoices created betqeen those dates. Report You can select the following reports: Outstanding invoices Paid invoices Stage owner invoices Draft ...

Projects report

There are 2 reports available on this page. Project Report The projects report has the following options: From/To Dates Select dates here to see projects started between those dates. Completed Date From/To Select dates here to see only projects ...